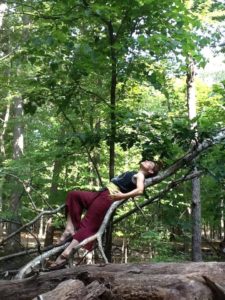 The practice of yoga is a practice of tuning in. We tune in to listen to the rhythm of our breath, the pulse of our hearts, the thoughts in our mind and the whisper of our inner guidance. We tune in to feel the flex of our foot, the rise of our belly, the movement of our hips, or even the tightness of an injury that calls to our attention. As we tune in to the practice of yoga and take notice of our movement on the mat and the shapes that we take, we recognize each movement is a metaphor for our movement through life and the cyclic patterns in nature. We tune in to the balance between effort and grace, expansion and contraction, embrace and release as we move with the ebb and flow of our breath. We tune into listen, to nourish and to connect.
The art of yoga and movement have been a nourishing gift in my life which I am grateful to share. As a physically active person who can often be found paddling down a river or walking wild woodland trails, yoga helps me to move with deeper awareness, strength and flexibility. With an active life and an active mind, it helps me to draw my attention inward to be attentive, on and off the mat. As a teacher, my intention is to cultivate a quality of gentle awareness and inspiring flow that leaves you feeling tuned in, strong and nourished.
I completed my 200 hr training at Jala Yoga in Shepherdstown WV in 2017. As someone who has alway found myself in the role of teaching in many arenas, from my time spent farming and creating youth camps, teaching art classes or teaching groups how to paddle, I enjoy sharing my enthusiasm for what I love. And quite simply, there is something about a good workout with fluidity of movement to the rhythm of breath that helps you walk with a lighter step, hopeful heart, and generous smile. Hope you can join me.